Today's Featured Movie- Wings of Silver: The Vi Cowden Story
by johnathan
They were never formally recognized, received no military benefits, many Americans don't even know that they exist – yet today, women's place in this country might be very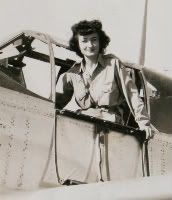 different if Vi Cowden, and the 1073 other women like her hadn't been willing to do the job they did. A story of triumph and inspiration over adversity, Vi and her fellow Women Airforce Service Pilots (WASP) were not only crucial to the war effort during WWII, they also changed the course of Women's history.
Filmmakers Mark and Christine Bonn are returning filmmakers. They won Best Documentary Short at Festivus Film Festival 2008, and we are thrilled to have them back!Wings of Silver: The Vi Cowden Story screens at 1:00pm Sunday January 17 at The Bug.
This screening is a WORLD PREMIERE!!